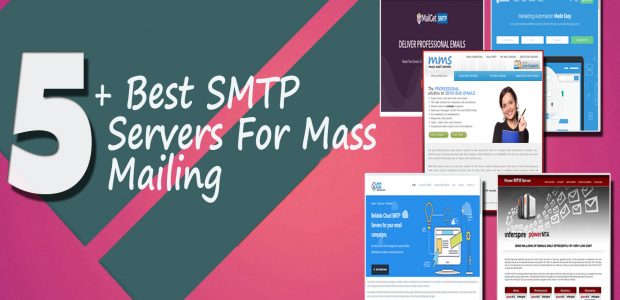 With the advancement in information technology, the digital marketing and email marketing has suddenly bloom and expanded. Thus it had become most reliable mean of promotion and targeting the customers.
In order to gain maximum results out of these email campaigns, must have an smtp server.
Here is a brief comparison of Best SMTP Servers for mass mailing…
Services

 Pricing

 No. of subscribers

 Email Tracking

SMTP Routing

 List Cleaning

 

Mass mail server

 $100/m
 5k
—

 

Cloud SMTP sever

 $300/m
200k-300k

 

 

MailGet smtp

 $5/m
 5k
—

—

 

PowerMTA server

  $300/m
50k

 

PepiPost

 $15/m
100k
— 
— 
 
In the process of choosing SMTP server for bulk mailing , there mailing speed should be kept in mind. Email should be send in greater speed, offers higher deliver ability  rate and could be easily integrated.
There are alot of SMTP service providers who claims to fulfill these criteria's but  in this article we had listed 5+ Best SMTP server providers. Let's explore them individually…    
Mass Mail Server
Mass mail server is all in one mass mailing solution provider offering various features. The main features are email marketing, VPS mail servers and SMTP hosting.
Mass mail servers provides fast SMTP server hosting for sending bulk mails or high volume emails. Normal hosting providers not allow to send bulk mail they apply hourly limits which creates problems for high volume email senders.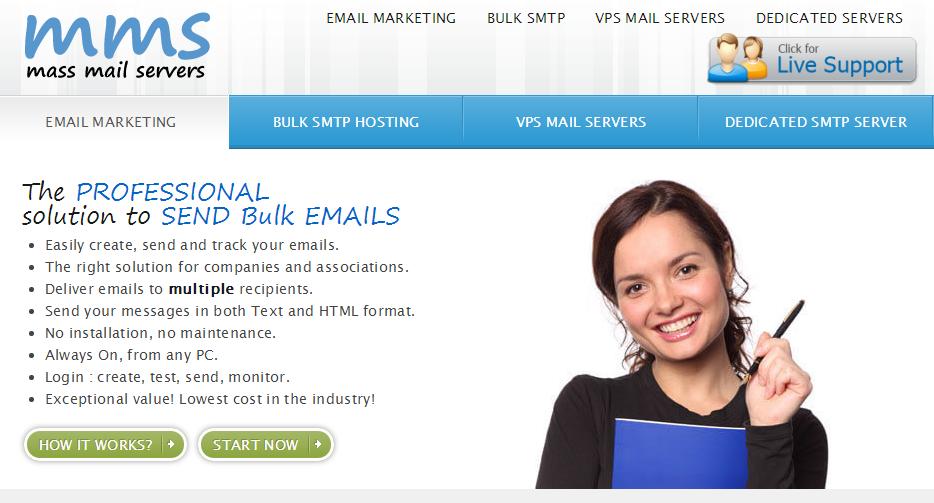 Features
Easy and simple integration of application.
SMTP Server Hosting with Dedicated IP with each account.
Free Sender Policy Framework (SPF Setup)
IP rotation on demand.
Free DKIM/Domain Keys Signing/rDNS Setup
Create Multiple Email Addresses using Cpanel
SMTP Server Hosting with Dedicated IP with each account
Pricing
As mentioned in above table that MMS offers little costly plans but they are having most reliable services in contrast to all other server providing companies. Breaking down the plans:
In $100/m , you can send 5000 email/hours to unlimited contacts.
In $150/m , you can send 10,000 emails/hour to unlimited contacts
similarly for $200 to $300 you can send 15000 email to 25000 emails per hour to unlimited contacts
Lastly with the payment of $1000 client could easily send unlimited emails to unlimited contacts.

Cloud SMTP Server
If we are talking best smtp servers then we must count CLOUD SMTP SERVER. As it is using both cloud and dedicated smtp servers for email marketing.
Cloud smtp provides tools of email tracking and offering free software with each smtp server. And the most important part is 100% secured server, easy integration and server time-up.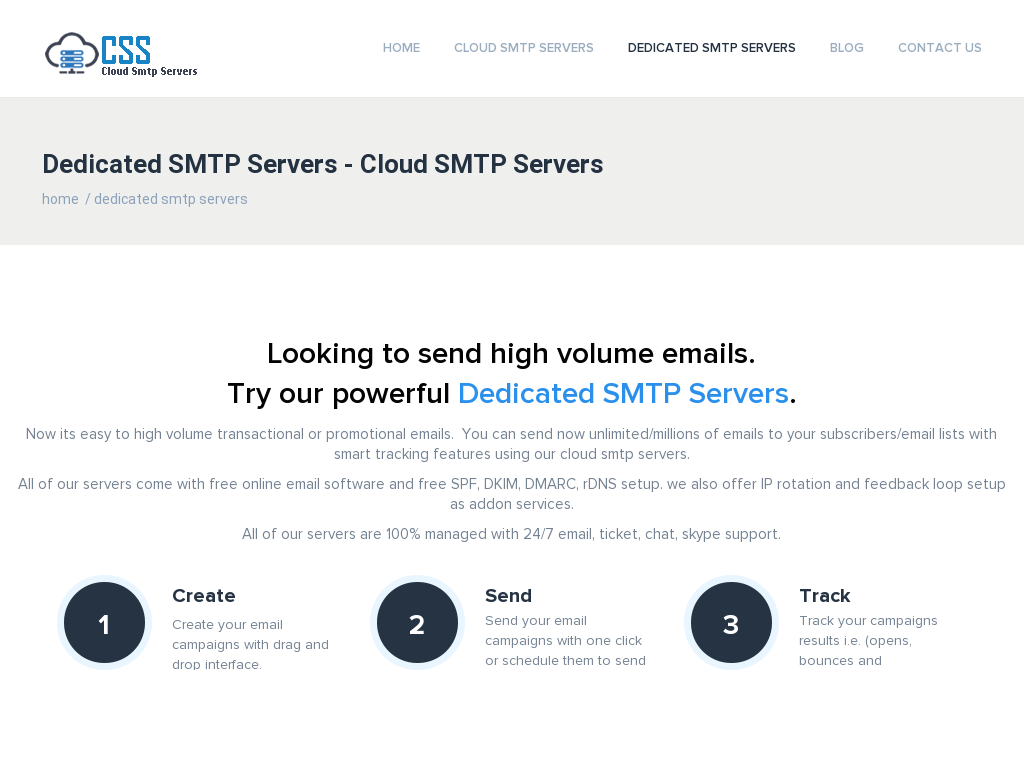 Features
Cloud severs offers fully tracking features that help to track down email delivery.
Cloud server come-up with dedicated ip's and free SPF, DKIM, DMARC and rDNS setup features
Easily configurable with popular CMS platforms: WordPress, Joomla & more.
Pricing
Cloud smtp server  comes with 4 pricing plans, which are as follows:
Personal:  In this plan, you can send 50,000 email / per hour approx* to  low volume email delivery for only $50/m .
Small team: It will cost you $100/m to send up to 10,000 emails/hour approx* 
Company: Best for company use multiple logins, in just $250/m you can send 30000 emails/hour approx*
Big shot: In the big shot plan, you can send 70000 emails/hour approx* at $500/m .

MailGet SMTP
Mailget smtp is one of the popularly known smtp server just because of i's high functionalities and features. To get more perk mailget smtp is compatible with several email marketing software's.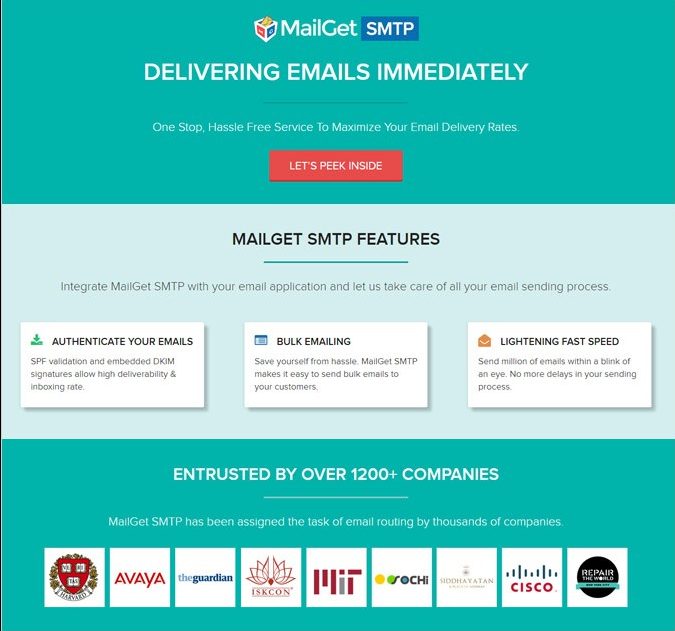 Features
Mailget smtp offers finest feature of 99% direct inbox delivery due to it's white listed servers
SMTP server is packed with SPF validation and DKIM signatures.
This SMTP service provider also has an upper hand in managing your bulk emailing needs.
Pricing
Mailget smtp is one of cost effective service provider. But being cost effective is not only a matter , in this era of technology we are required to send bulk of mails. Mailget send mails on monthly basis. Anyhow let's have a look o their plans…
Starter: $5/month, you can send 5,000 emails.
Rookie: In $29 per month, the email sending limit is extended to 50,000.
Pro: $49/month, send email upto 100,000 per month.
Advance: The advance plan fluctuate from $59/month sending 120,ooo email/month to $419/month by sending 600,000 emails per month.

PowerMTA server
PowerMTA server is very well answer to the question – which is the best smtp service provider for bulk mailing? Offering dedicated smtp servers for bulk mailing on daily basis regardless of text or html promotional or transactional.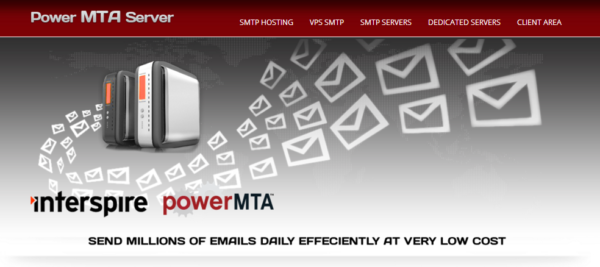 Features
Offer Optimized smtp servers to send millions of emails on daily basis regardless of text or html.
Free mailing software plus free DKIM, SPF, rDNS setup
Smtp servers allows to have multiple additional ip's.
Offer free email marketing software that allows to track down each single email delivery status and logs. you can track down your campaign how many people opened, bounces, rejections etc.
Pricing
Power MTA server has diverse pricing schemes which offer 24×7 customer support and unlimited email sending capability on every plan.
Entry: At $300/m can send 50000 email/hour.
Professional: In pro plan you can send 70000 email/hour at the price of  $500 per month.
Business: business plan offers to send 100000/hour at the price of $700/month. 
 The enterprise plan offers to send 200000/hour at the effective price of $1000/month.

Pepipost
Pepipost is one of the finest smtp service providers with the best inbox rate. You can send critical emails on time. Moreover you can get live delivery status in mean time.
It provides highly secure email protocols like: SSL , TLS encryption which protect your data.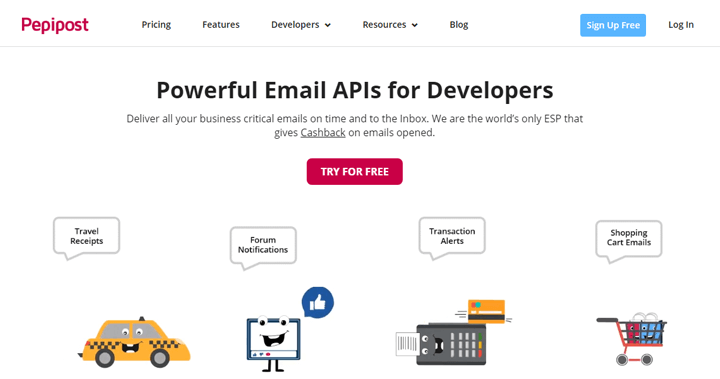 Features
You can track email, with the real-time tracking feature.
Simplified account management system. You add multiple accounts with different domains under one account.
Instant notification about hard email bounce via email. So the could monitor at your end.
Pricing
Pepipost provides various pricing plans which are differentiated on the basis of the number of emails.
Send 100,000 emails per month at $15.
At the price of $65  you can send 300,000 emails per month along with all the essential features.
Pay only $145 and send 500,000 emails per month along with prioritized support.
The most advanced plan of 1000,000 emails per month at only $245
*Note: In order to send extra emails, pepipost takes extra charges of $0.60 up-to $0.40

What's Next???
Now as we had gone through 5+ best SMTP Server and service provider, it's time for being a client to choose for yourself and make decision to incorporate the best SMTP relay for your mass mailing needs. No doubt the above mentioned list is of the top smtp server providers offering dedicated services in affordable prices. Hence, choose the best….