There is no ambiguity that there are several companies available in market providing top class email marketing services. It is one of the difficult task to choose the best out of herd!!!
To solve the problem , we had made a research and got the list of top email marketing companies.
We've shortlisted top 10 email marketing companies of 2018, on the basis of there yearly performance. There services have analyzed to suit every need of business very well.
Why to wait more? Start exploring the top companies and grab the finest deal that is highly required by your firm….
Services

 Pricing: 5k Emails

 Free Trial

Email List Cleaning

Ratings

Redcappi

$34 

 Yes

No 

 4.5/5

Vebnest

$49.99 

 No

No 

 3/5

1PointMail

$49 

 No 

No 

 4.5/5

BulkmaiL VPS

$49.99

 No

 

No

 3.5/5

JangoMail

$90 

 Yes

 No

 3.5/5

SendIn blue

 19€ ($21.64)

 Yes

No 

4.2/5

 

Elite Email

 

$15

Yes 

Yes 

4.5/5

 

Hotsol

 

$149.99

No 

 No

4/5

 

Instant Bulk Mail

 

$50

 Yes

 No

 4/5

Dailysender

$

49.99 

 No

 No

 4/5
1# Bulkmail vps
Bulkmail vps is lesser known but cheapest email marketing service that allows you to send bulk mails at affordable prices. In order to get started with Bulkmail you do not need anything ,they would be setup a smtp server along with web based email marketing software.
They allow to use there server with  your software too. It offers monthly plans according to the volume of emails. Offering friendly packages to clients e.g: send 50000 email/day in just $49.99/month… Which is quite economical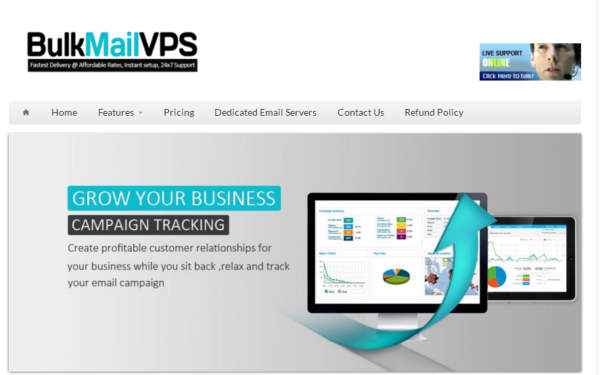 Countless attributes for any type organization
Unlimited contacts, campaigns, auto respond
Fast and reliable SMTP server
Email marketing software features
Email deliver-ability
Domain key/ DKIM setup
Pricing plans
Bulk mail vps has 4 different packages which provide multiple user access at various price point according to the usage.
Standards: $49.99/month is the cost you will have to pay for 50000/day
Upgraded: At the price of  $99.99/month user can easily send 100000/day
Premium: For large organizations this plan is more then feasible as it allows to send 500000 emails a day at the price of $299.99/month
Professionals:  This plan will charge $199.99 for a month and allows to send 300000 emails a day
2# Redcappi
Redcappi is powerful email marketing service that clarifies advancement needs. Its collective platform helps to send lead emails to customers and also allows a variation of testing on emails. The supply comes loaded with lots of address like beautiful newsletter, contacts, importing, easy contact authority and much more.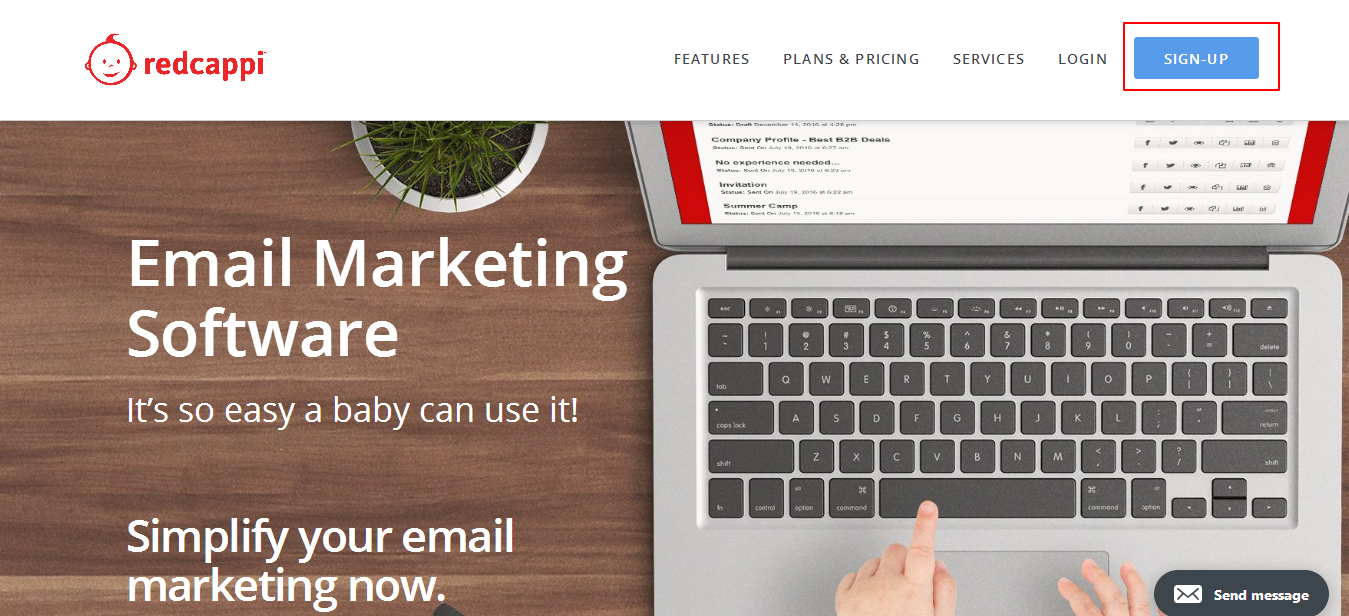 Following are the attributes of redcappi
Easy to use Drag & Drop e-mail producer.
Check user actions on email like opens, click, etc real-time.
Built-in Sign-up forms to compile more subscribers.
Auto res-ponder to send electrical emails.
Pricing plans
Redcappi is also offering free monthly and yearly plans for up-to 100 contacts. As well as paid plans, Redcappi email marketing solution has an out range of plans starting at 10$ monthly with a contact transmission of up to 500 users.
Rule out the above plan, there are 8 other plans which range from $15 to 288$ and give user access ranging from 1,000 to 100,000 users. It also offers 3 months discount on yearly subscription which is applicable to all plans.
3# 1Point mail
Only now, 1PointMail is an impressive marketing computerization platform that helps to better the sales and ROI(return on investment) of business. Start sending emails is bulk without bothering about deliver-ability as it security high inbox employment with leading email deliver-ability ownership.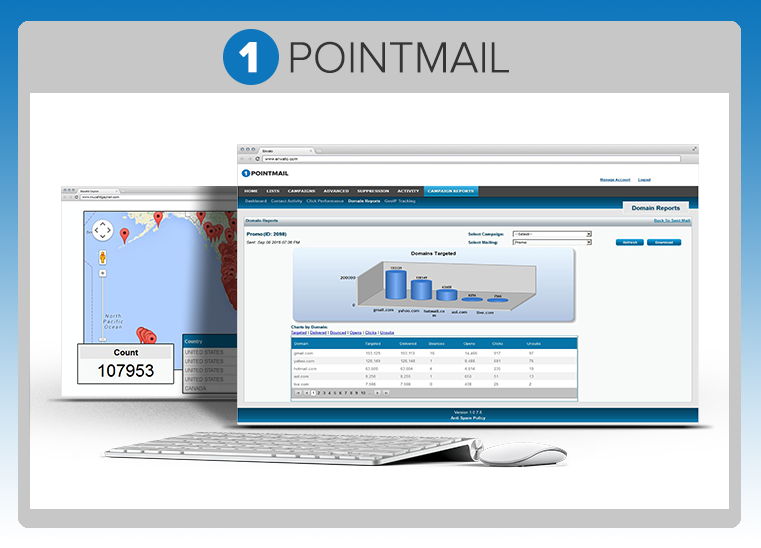 Have a glimpse of these unique attributes
Manage Lists Effortlessly
Track Real-Time Results
Increase Email Deliver-ability
Optimize Marketing Campaigns,
Access Features Easily
Pricing plans
1pointmail is a email marketing platform that has arranged 6 plans for your marketing needs which are starts from $49 per month for sending 10000 emails a month. And end at $399 per month which can send 500,000 emails month.
*Save up to 40% on your Email Marketing
4# JangoMail
JangoMail is an acknowledgment-based marketing service used to employ more client. It attempt unique appearance and flexible prices to firm of different sizes.You get approach to 150 e-mail templates, easy to use WYSIWYG mail editor, spam comfortable checker, and plus more efficiency.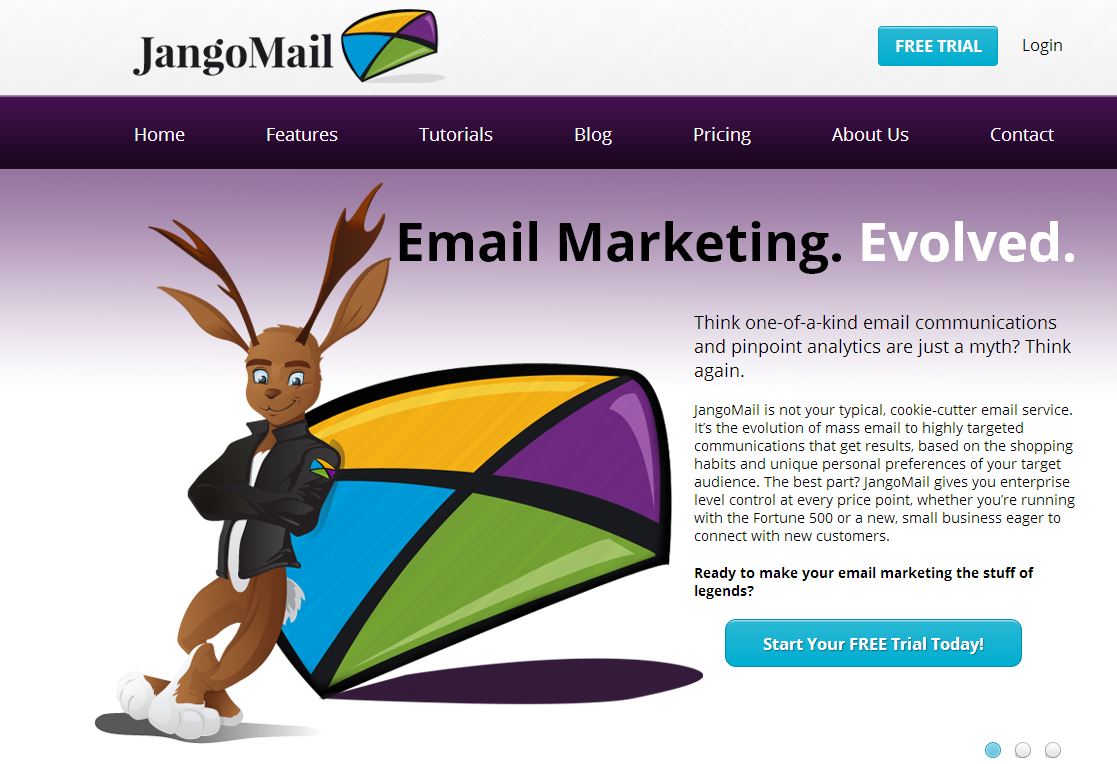 Unique features
Send automate, generate and expected emails.
Automated Email Messages
Master/Sub-account Setup
Personalized Email Messages
List Management
Geo-tracking
Pricing and plan
Offers exclusive 4 plans that starts from Spark plan of $90  per month to Enterprise plan of "volume pricing"
*Jango mail offers free trial for 30-days and deliver 10,000 responsive emails to your customers.
5# Dailysender
Daily sender comes with the far most better reasonable and affordable email marketing services that comes up with many great features through which you can run successful email marketing for business. Dailysender is offering fully hosted services. Hence you need not to worry about managing servers too. The fascinating pricing plan gives you docility of paying for only the amount of emails you send along with a subscription fee as per contact list.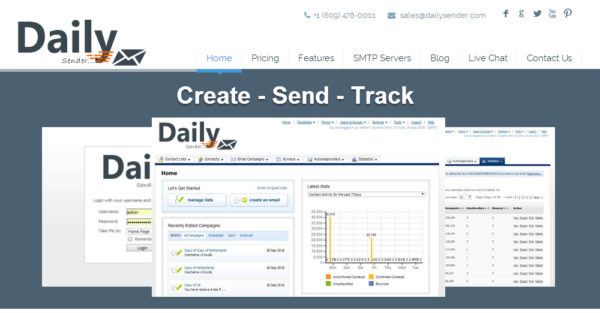 Advanced features that will help in business growth
It has many fascinating features like
List management
Auto-respondent's
Location track
Scheduled campaign
Cloud contact list and many more.
Pricing and plan
If you have unlimited subscribers then you can send 50000 emails per day at the minimal rate of $49.99. Not all services offer same features at lowest price. However this is the latest  approach for email marketing and is according to the current market scenario.
6# Vebnest
VEBNEST offer every minute of every day web arrangements, since 2007 to its clients around the globe. We possess and oversee in excess of 1000 Dedicated Servers and facilitating more than 100000 Domains on our servers situated in USA and EU Data Centers. We have encountered and qualified staff which work day in and day out to encourage our clients.
Site facilitating is an administration that enables you to transfer and store your web page's HTML archives and related records on our web server. They're solid facilitating plan begins from $49.99 / per month .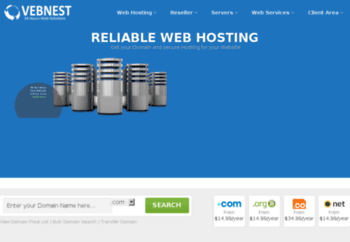 Check out its unique properties below
Free Website Builder
No over loaded servers
Email Tracking
Free Email Accounts
cPanel & Plesk Control Panel
30 days Money Back guarantee
Site management, client support, no overloaded server
Pricing and plan
Vebnest is providing email marketing services all over the World with tidings in online marketing for immense timely return on investment prospect. Vebnest prunes cost effective E–mail solution to stretch out to wider diverse and distant cliental. They are offering 4 exclusive plans starting from Economy plan of  $49.99 per month for sending 100000 Emails Monthly to 50000 Subscribers. And ends at Ultimate plan of $499.99 per month for sending Unlimited Emails to unlimited subscribers monthly.
7# InstantBulk Mail SMTP
Instant bulk SMTP cover outgoing email service that allows one to send huge number of  emails from your email address either you have your own software or you don't have your own software. By  looking at the way marketing is playing an important role Instant bulk SMTP was designed in order to start sending campaign easily.
Unlike other email marketing  services Instant bulk SMTP is provided with high volume hosting service not only from own (user) application server, email client could also be a combination of different sources. They are providing high volume services.
For appropriations of a few thousand to more noteworthy than 1,000,000 messages for each month, our high volume administrations are very adaptable and intensely evaluated.

Below are the attributes of InstantBulk SMTP
Instant bulk SMTP uses multiple IP's in order to send emails with more speed.
Unlimited email to unlimited subscribers.
Simple Integration with your application.
Free Mailing Software (Optional).
Free support 24/7.
No long term contracts.
Setup RDNS, SPF, Domain Keys yourself.
Pricing and plan
Instant Bulk SMTP is discernibly less expensive than other SMTP specialist co-ops which offer a few designs dependent on email sending limits…
Let us take an example:
Most basic plan starts from

$200/month

, offering 15000 emails/per hour approx*
The subsequent plan will charge you 

$300

 and will permit you to send 25000 emails/ per hour approx*.
Next two plans will be about

$400 & $700

 and will offer you the email sending quota of 36000 and 50000 per hour
Furthermore, the last plans worth 

$1000

 will allow you to send 100000 emails per hour respectively.
8# Elite mail
Along Elite Email you get numerous email marketing profit onward with bundled appearance that benefit in alive promotion and broadcast of stock & supply online.
It also joins with Facebook and Twitter which can expand your marketing achievement. Plus, you get hundreds of templates that gives you customization choice as well.

Other properties of Elite Email
Free plan: This plan is free always and you can send online mails to 500 association on your account.
Subscription Plan:  This plan will cost $15 a month for up to 1000 customer, $28 for 2,500 users and so on it will go.
Pay As You Go plan: In this plan for 1,000 credits. You have to pay $15 for 2,500 credits $30 and so onn (Each Credit = One Email)
*By refund for 6 months you can save 10% and for 12 months you can save 15%.
9# Hotsol
Hotsol is an email marketing cooperation that has some expertise in mass email pitch . They work with little , culture medium and extensive friendship to convey senior secondary school volumes of email every day. Regardless of whether its value-based or limited time email, our system engineering is particularly intended to convey mass email crusades in a proficient way.
We are restoring out with a mission to assemble an email advertising serve that enables control of all sizes to send mass email without endorser constraints or time limits at moderate costs. Zillion of messages later we have accomplished this objective and keep on helping organizations convey their message to clients over the globe.

Advanced features that will help in business growth
With the management tool one could manage email list easily.
Can import contacts on a cloud.
Understand your audience better, by testing variations of your email campaign content.
Geo-location to track the location of your subscribers.
Send rich html design emails
Send triggered emails to your customers based on purchase or website activity.
Precisely track email opens, bounces, click-through and location of your recipient.
Pricing and plan
Hotsol has 9 different packages which provide multiple user access atvarious price point according to the usage. They are starting from pro plan $199.99/mo, help in sending 4200 emails per hr. approx* to unlimited subscribers. And end at premier plan of $399.99 helps in sending 10000 emails per hr. approx*  to unlimited subscribers.
10# SendIn Blue
SendIn blue is another low cost email marketing service with devastating features. Email analytics,subscriber segmenting , subscriber management and many more.  
There charging pattern consist of two part. One is advanced payment which is made on monthly, quarterly and yearly basis. Whereas the other payment is made on additional subscribers as per the list. SendIn blue also allows you get there free plan for trial purpose which allow you to send 300 mail a day.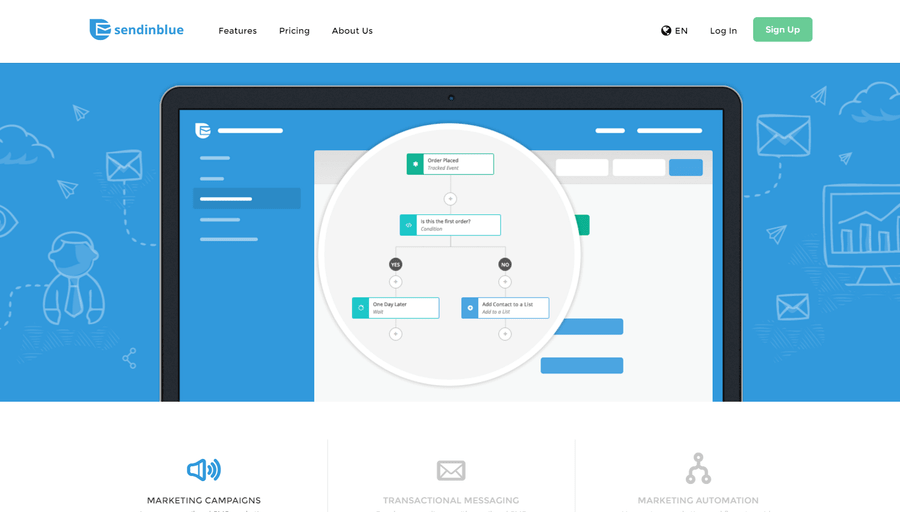 Interesting feature of SendIn Blue
Send promotional and transactional emails that are triggered automatically.
Test the responsiveness of emails and optimize them for variety of devices.
Use API's and Integrate plugins and third-party apps for easy functioning.
SendIn blue also allows you get there free plan for trial purpose which allow you to send 300 mail a day.
Wrap It Up…
Well, I would highly recommend Dailysender and Bulk mail vps  – Email Service Provider for your organization – one of the popular and best email marketing tool that offers stunning features.
Now, that you are familiar with all the top email marketing companies of 2018 please let me know which service you liked in the comments section below.